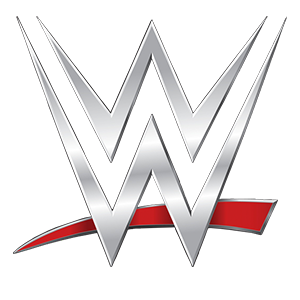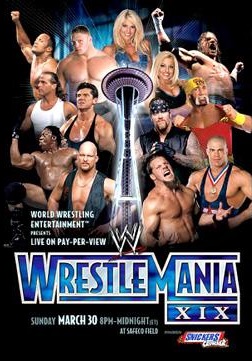 By Big Red Machine
From March 30, 2003
Discussion
WWE Wrestlemania 19 (3/30/2003)- Seattle, WA

WWE CRUISERWEIGHT TITLE MATCH: Matt Hardy(c) (w/Shannon Moore) vs. Rey Mysterio Jr. 5.5/10. Solid opener that got the crowd hyped up.

A-TRAIN & THE BIG SHOW vs. THE UNDERTAKER & NATHAN JONES- 4.5/10. Jones had been jumped on Heat, so he wasn't there for most of the match. The story here, of course, was that Taker had to fight both opponents on his own. Despite this, you never really the feeling that Taker was in too much trouble. You got the feeling that he could hold both guys off, and that only getting the pin without it being broken up would be the problem, which really hurt this match.

WWE WOMEN'S TITLE MATCH: Victoria(c) (w/Stevie Richards) vs. Jazz vs. Trish Stratus- 5.5/10

WWE TAG TEAM TITLE MATCH: Team Angle (Charlie Haas & Shelton Benjamin)(c) vs. Los Guerreros vs. Chris Benoit & Rhyno- 6.5/10

SHAWN MICHAELS vs. CHRIS JERICHO- 9.5/10. AMAZING! Mr. Wrestlemania does it again.

WORLD HEAVYWEIGHT TITLE MATCH: Triple H(c) (w/Ric Flair) vs. Booker T- 7.5/10

STREET FIGHT WITH HOGAN'S CAREER ON THE LINE: Hulk Hogan vs. Vince McMahon- 8/10. AWESOME match, and some great camerawork. That shot of Vince's bloody face coming up from behind the ring brings chills to my spine. Hugo Savinovich taking the chairshot and Vince and Hogan just continuing their brawl, not paying any attention to the bleeding innocent bystander really helped sell the hate (this was actually supposedly unplanned, but I don't believe that. Hugo is a Spanish announcer. He is used to having to get out of the way whenever someone comes near his table. This time, he didn't).

THE ROCK vs. "STONE COLD" STEVE AUSTIN- 8.25/10. Awesome match

WWE TITLE MATCH: Kurt Angle(c) vs. Brock Lesnar- 9/10 WOW! AMAZING match! Great selling by both men, and great psychology. One little completely unintentional thing that really helped make this match (and the show as a whole) feel a bit more epic to me was that, by the middle of the main event, it was clear that Michael Cole was losing his voice. Cole was that excited for this show and was just that loud that he lost his voice.

Overall, this was an absolutely AWESOME show. Possibly the best Mania of all-time. It is a toss-up between this and Wrestlemania 17. A must-buy for every single wrestling fan.
LATEST REVIEWS