WCPW Pro Wrestling World Cup Canadian Qualifying Bracket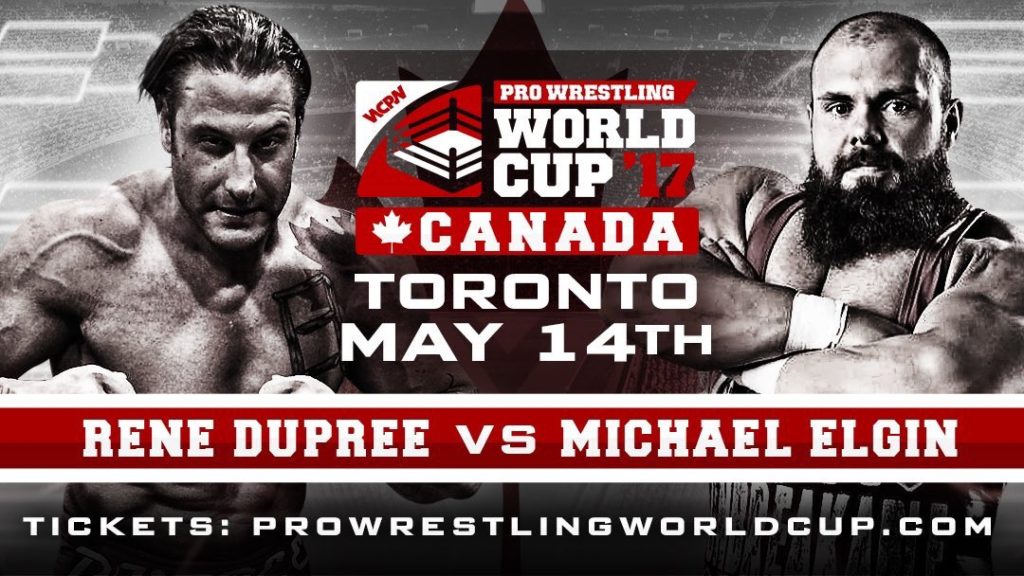 By Big Red Machine
From May 14, 2017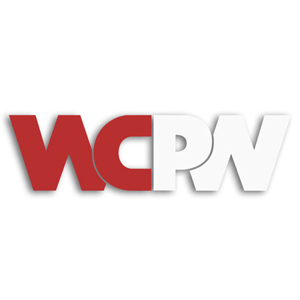 PRO WRESTLING WORLD CUP CANADIAN QUALIFYING FIRST-ROUND MATCH:
Michael Elgin vs. Rene Dupree - 4/10

We got a video with highlights and interviews of these guys before the match. Elgin was very good. Dupree was vaguely heelish, but I couldn't really apy attention to much of what he was saying because I was mesmerized by the fact that he seemed to be talking about wanting to represent Canada while wearing an AJPW shirt with a big picture of Japan on it.

They had a decent little match, mostly focusing around Elgin doing his power stuff. Then Dupree just got a chair and got himself disqualified for no reason. That buries the tournament if one of the wrestlers doesn't care if he gets eliminated from it by being disqualified, so this was probably the worst finish they could have done to start off this show.


PRO WRESTLING WORLD CUP CANADIAN QUALIFYING FIRST-ROUND MATCH:
Franky The Mobster vs. Harry Smith - 6.5/10

Good interviews from both guys. Frankie was pretty great, actually. They had a very good match that was enhanced by Harry Smith rather shockingly taking the role of the heel.


PRO WRESTLING WORLD CUP CANADIAN QUALIFYING FIRST-ROUND MATCH:
"Speedball" Mike Bailey vs. Brent Banks - 8.25/10

The pre-match interviews drew a good contrast between the two men, but Banks really blew me away here. This guy is great on the mic. Why have I never heard of him before? It turns out he's also really great in the ring. Again: why have I not heard of him before?

There is just something about a random match on the undercard that doesn't seem like it's going to deliver anything notable going out there and delivering something special that really makes you seem like you're watching something important. This was one of those matches.


PRO WRESTLING WORLD CUP CANADIAN QUALIFYING FIRST-ROUND MATCH:
Kyle O'Reilly vs. Tyson Dux - 8.25/10

Good interviews from both guys. Then went out there and had an excellent technical match with lots of good work on the limbs.


WCPW INTERNET TITLE MATCH:
Gabriel Kidd(c) vs. Zack Sabre Jr. - 8/10

The story of this match that Kidd was cocky despite the high quality of opponent he was facing, but he actually came close to justifying his cockiness, as he definitely looked like someone who could hang with Zack Sabre Jr. in a battle of technical skill. Zack did eventually gain the upper hand, only to be outsmarted and lured into a trap by Kidd playing possum at the end. Awesome match.

POST-MATCH SEGMENT - Zack was very upset with himself after the loss, kicking and throwing things. Kidd notes to Zack that they have now have one victory each over the other, and says that he wants there to be a rubber match at some point.


PRO WRESTLING WORLD CUP CANADIAN QUALIFYING FINAL MATCH:
Harry Smith vs. Michael Elgin - 6.25/10

Smith jumped Elgin from behind to start the match off. He worked the knee for a long time, but Elgin really didn't sell it when it wasn't being worked on, although part of that was that they didn't do anything to capitalize on the potential of that story. Elgin winning here feels like a big waste of this Harry Smith heel turn.


PRO WRESTLING WORLD CUP CANADIAN QUALIFYING FINAL MATCH:
"Speedball" Mike Bailey vs. Kyle O'Reilly - 8.5/10

Speedball worked over Kyle's knee while Kyle would switch to whichever part of Speedball's body he could get his hands on at the time. Great selling by both guys. A very exciting and awesome match.


EL LIGERO vs. JOE HENDRY - 6.75/10

We get the usual heel promo from Hendry before the match. I do enjoy this heel evolution from the "Local Hero" character. He laid El Ligero out with the WCPW World Title before the match got started. There was a lot of overbooking here, but I thought it worked pretty well. El Ligero got not one but two visual pinfalls, but Hendry, with his copious cheating, was the one to pick up the win that will be recorded in the record books.

POST-MATCH SEGMENT - Hendry beat El Ligero down until Martin Kirby came out to make the save. This was fine.

Final Thoughts
An excellent show from WCPW. After the opener it was great stuff all up and down with card, including several matches worth going out of your way to see.