RevPro/NJPW Global Wars UK 2017: Night 1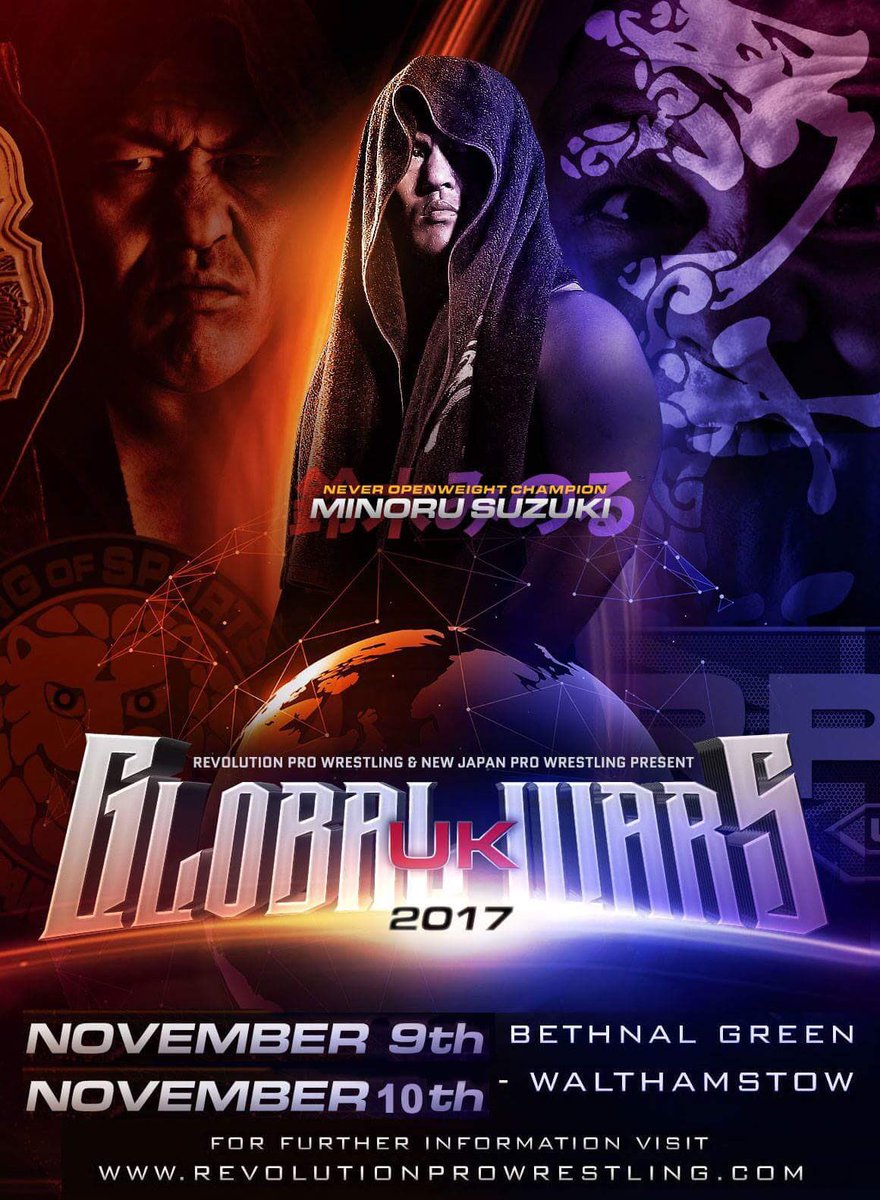 By Big Red Machine
From November 09, 2017

RPW BRITISH CRUISERWEIGHT TITLE MATCH:
Josh Bodom(c) vs. BUSHI vs. Ryan Smile - 6.75/10

This was a very good three-way opener that never let you forget it was a three-way... except for the few times they wanted you to forget. Smile won the title, which is a huge win for him, but I was quite disappointed to see Bodom lose the belt after being such a great champion this year.


GIDEON GREY & NO FUN DUNNE vs. CHAOS (Toru Yano & Gedo) - no rating, meh comedy match.
MATT RIDDLE vs. EL DESPERADO - 6.75/10

El Desperado worked over Riddle's leg. Riddle could have sold it better at times, but on the whole, this was pretty darn good.


MARTY SCURLL vs. TETSUYA NAITO - 7.75/10

This was a really great match in which I think the overbooking managed to be a boon rather than a bane. The thing I liked the most about this match was that these two definitely went out of their ways to mix it up and do stuff that they don't usually do. Despite how great this match was, I still just plain don't like jobbing out the IWGP Jr. Heavyweight Champion- even if it's to a heavyweight who is the #1 contender to the IWGP Heavyweight Title. Personally, I would have rather seen Scurll beat El Desperado and Riddle vs. Naito go to some sort of big draw or something, although that's more of a New Japan issue, and I certainly can't blame RevPro for wanting to give their two matches that are out of the ordinary instead of one big one and then just doing a random New Japan Jr. Heavyweight match in a RevPro ring, as this does a better job of making their show feel unique and showcasing the New Japan talents.


ZACK GIBSON vs. YUJI NAGATA - 6.75/10

Young punk Gibson tries to prove that veteran Nagata's time has passed but Nagata proves him wrong. A classic story, because it's so simple and so effective.


CHAOS (Rocky Romero & YOSHI-HASHI) vs. CCK (Travis Banks & Chris Brookes) (w/Kid Lykos) - 7.25/10

Great tag team wrestling. CCK pick up a win to hopefully move them back towards title contention.


KEITH LEE vs. TOMOHIRO ISHII - 9/10

These guys put on an amazing match, and all they needed to do so was an extremely simple story: Lee's size and power against Ishii's toughness and determination. While Ishii would need several shots to stagger Lee, Lee would need just one to stagger Ishii... and yet Ishii never stopped coming. Lifting up the massive Lee was an almost herculean task for Ishii, but he tried and tried and they built it up and built it up and he finally got it. Lee would knock Ishii down and Ishii would get right back up. He never gave up.

I've been a vocal critic of Ishii's psychology over the years, but he has really stepped his game up this year. Spots that in past years would be pointless overkill now serve a real purpose in the story of the match. For example, compare Lee's reaction to Ishii kicking out at one to Ishii's reaction to Lee doing so: Lee sat there, stunned, but Ishii simply got up and charged at Lee to continue the attack. If that didn't work, he'll just move on to the next thing, because he was 100% determined not to lose this match.


CHAOS (Will Ospreay & Hirooki Goto) vs. SUZUKI-GUN (Minoru Suzuki & Zack Sabre Jr.) (w/El Desperado) - 9/10

Suzuki-Gun were excellent as vicious and cheating heels here (all three of them), working over pretty much every part of Ospreay's body they could get their hands on, but especially the arm. Ospreay was an awesome defiant babyface, and Goto was good in his role as well. Ospreay got the pin on Zack to build up to their title match tomorrow night, but we must now head into that match with the question of whether the damage Ospreay sustained tonight (he was selling not just his arms but also his knee on the way to the back) will prevent him from picking up the win tomorrow when the title is on the line.

Final Thoughts
An AWESOME show from New Japan with solid wrestling on the undercard and two blow-away matches on top that ensure that this show will be remember for quite a few years to come. Despite my disagreement with the booking of the undercard, I'm quite excited tom see how things shake out tomorrow, when we've got a double main event that could blow even tonight's away.