wXw Road to 16 Carat Gold 2018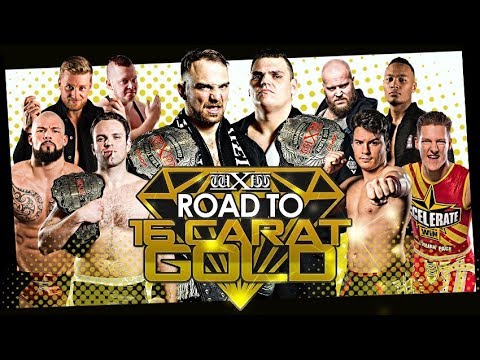 By Big Red Machine
From February 25, 2018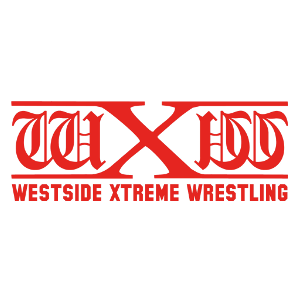 OPENING SEGMENT - Great. Dirty Dragan came out and basically said that he had a crisis of confidence and doesn't want to be a goofball anymore and instead start being "cool and strong." He tells us that he recently accidentally broke Emil Sitoci's nose at a show (Emil has recovered by now) but he wants to apologize to him so he calls him to come to the ring from the commentary area. Instead Jurn Simmons comes out and starts to bully Dragan. He derides him for "begging for everyone's attention" and that he's a disgrace of a human being. The fans start chanting for Dragan, but Jurn tells him they only cheer for him out of pity.

Dragan shoves Jurn! Jurn gets ready to murderize Dragan... and then Alexander James comes out, making his return to wXw for the first time almost three months, since Jurn beat him in their I Quit Match... and then hit him with Viking Execution even after he quit. He gets in Jurn's face, but Dragan pulls him back, insisting that he has to stand up to Jurn for himself... so James punches Dragan and starts to beat him down. Jurn joins in the beat-down. James suggests they go for the Viking Execution and he holds Dragan in place while Jurn goes to get the Kendo stick, but Emil Sitoci makes the save.

Sitoci says that Dragan is "a bit of an idiot," but if he really wants to turn over a new leaf and start being "cool and strong," he should be his partner tonight against Jurn and James. Dragan accepts, and the heels accept as well.


ROAD TO 16 CARAT GOLD SEMIFINAL THREE-WAY:
"Speedball" Mike Bailey vs. Julian Pace vs. Jay Skillet - 6/10

This was supposed to be a four-way also featuring Bobby Gunns, but Gunns figured a quicker route to earning a shot at the wXw Unified World Wrestling Championship than winning the 16 Carat Gold tournament would be to use his position as the wXw Shotgun Champion to challenge wXw Unified World Wrestling Champion John Klinger to a non-title match tonight and try to earn a title shot just by beating him in a singles match. The match was spotty, but fine as an opener, and I appreciated that they made an effort to make it a true three-way rather than two guys wrestling while a third takes a rest.


ROAD TO 16 CARAT GOLD SEMIFINAL FOUR-WAY:
Marius Al-Ani vs. Michael Dante vs. Viet Mueller vs. Francis Kaspin - 2/10

Short, and not particularly good for the time it got, either.


ABSOLUTE ANDY vs. TYLER COLTON - 2/10

Colton is a strongman competitor, so this was a hoss fight, but it was a disappointingly short one.


DIRTY DRAGAN & EMIL SITOCI vs. JURN SIMMONS & ALEXANDER JAMES - 6/10

Dirty Dragan charged at Jurn to start things off but was immediately disposed of, leaving Sitoci down two-on-one for the beginning of the match. Dragan eventually made it to the corner to receive a tag and of course he soon wound up as the babyface in peril. He eventually got pinned by James, but he did a good job of getting me behind him. He was very upset about his loss, and compliments of his efforts from neither Sitoci nor the crowd managed to get his spirits up. I'm looking forward to seeing how this story plays out.


BOBBY GUNNS vs. "BAD BONES" JOHN KLINGER (w/RISE) - 7.5/10

Everyone from RISE who was in the building tonight came out with Klinger, so they are putting up a united front once again (at least publicly). These guys had a very hard-fought match that Klinger won via referee stoppage. Not only should this at some point put Klinger in line for a shot at the wXw Shotgun Title, but Klinger has now also cleanly defeated the man who RISE member and potential challengers to his leadership Ivan Kiev lost that title to.


#1 CONTENDERSHIP MATCH:
Killer Kelly vs. Melanie Gray vs. Veda Scott - 4.5/10

They brawled for a while, then Melanie made Veda tap to the cloverleaf, so we're getting Melanie vs. Toni, which should be an excellent babyface vs. heel match-up.


RINGKAMPF vs. RISE (Ivan Kiev & Lucky Kid) (w/Tarkan Aslan & Pete Bouncer) - 8/10

The story here was RISE's cheating tactics, which they used to perfection all match... until they were foiled by Bouncer stopping Aslan from hitting Thatcher with one of the tag title belts. The referee was looking right at them so this would have been a DQ- and I'm sure that's what Bouncer will tell Klinger later- but it's more likely that this was Bouncer trying to top RISE from cheating to win, as he has he (and, to a lesser degree, Kiev) have recently made rumblings about wanting to take the faction in a less cheat-y direction. It also plays off of the events of the 16 Carat Gold qualifier between Lucky Kid and Kiev at Dead End XVII, where Aslan and Bouncer had a minor altercation on the outside over Aslan's attempt to cheat on Lucky Kid's behalf. This argument here caused Lucky Kid to come out to make peace, which resulted in WALTER taking Lucky Kid out and Thatcher making a quick comeback on Kiev to pin him for the win. They also made sure to make WALTER look like a beast throughout the whole match to set up for him challenging Klinger for the wXw Unified World Wrestling Title at 16 Carat Gold 2018: Night 2.


ROAD TO 16 CARAT GOLD TOURNAMENT FINAL:
Marius Al-Ani vs. "Speedball" Mike Bailey - 8/10

The first half of this match was these two guys going nuts on each other and showing how badly they wanted make it into the 16 Carat Gold field. As usual for his matches, though, Speedball could have sold better.

We got a ref bump, followed by Absolute Andy running in to take out Al-Ani. Speedball then took out Andy for interfering. Then, for some strange reason, Bobby Gunns ran out and took out Speedball before having a stare-down with Andy who he is feuding with. Al-Ani dove onto both of them, then Speedball did a dive, and then we were back down to the two men who were actually in the match. They did a great job of almost instantly recapturing the intensity they had before the run-ins and did a few last spots and false finishes before we finally got a winner.

Final Thoughts
This was a pretty good show from wXw. The stuff in the first half of the show that didn't stem from the opening segment wasn't very good, but the rest of the show was solid to awesome, with the top two matches delivering enough to save the show. Take that and throw in the interesting story they have started to tell with Dirty Dragan, and you've got yourself a shot that is worth watching.