wXw 16 Carat Gold 2018: Night 2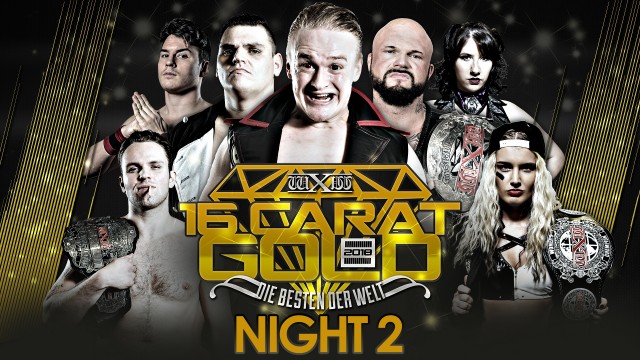 By b
From March 10, 2018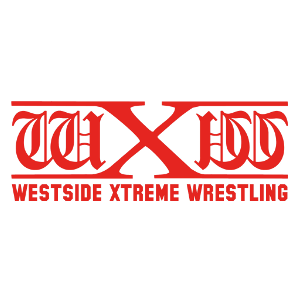 wXw WORLD TAG TEAM TITLE #1 CONTENDERSHIP MATCH:
Mark Haskins & Matt Sydal vs. Jay FK vs. Monster Consulting vs. RISE (Da Mack & Ivan Kiev) - 6.5/10

This was a fine action-packed opener. The crowd went inexplicably bonkers for Monster Consulting. Da Mack got the pin on Sydal, with Haskins being just a moment too late to make the save. RISE and Haskins had a bit of a stare-down afterwards.


16 CARAT GOLD QUARTERFINAL MATCH:
Chris Brookes vs. Keith Lee - 6/10

The story was based around Lee's size advantage, but they kind of fumbled it when Brookes was on offense. Lee picked up the win with a humongous Spirit Bomb.


16 CARAT GOLD QUARTERFINAL MATCH:
Timothy Thatcher vs. Lucky Kid (w/Tarkan Aslan) - 7.75/10

This was a wonderful clash of personalities, pitting the slightly crazy Lucky Kid against all-business Timothy Thatcher. In addition to that they used the set-ups of Lucky Kid's big upset over Matt Sydal last night and the fact that Thatcher has never made it out of the second round of 16 Carat Gold to get the crowd to buy into the idea that the outcome of this match was a lot more up in the air than it looked on paper. This was a GREAT match, and especially for the time it got.


16 CARAT GOLD QUARTERFINAL MATCH:
David Starr vs. Travis Banks - 7/10

This was an insane eight-minute sprint of a match that I probably would have given an even higher rating to if they had done everything they did here but in thirteen minutes instead of eight. Starr got the win, which frees CCK up to team tomorrow night.

TRAVIS BANKS PROMO - He cut a promo thanking the fans for supporting him and talking about what an honor it has been to compete in 16 Carat Gold. The fans chanted "PLEASE COME BACK!" which was very fortuitous for Banks as it allowed him to smoothly transition into his big announcement which was that later this year (Labor Day Weekend, to be exact- the same weekend as All In for you non-Americans reading this), Banks will, indeed, be back as part of a joint tour between wXw and PROGRESS Wrestling.


16 CARAT GOLD QUARTERFINAL MATCH:
Absolute Andy vs. Matt Riddle - 8/10

It turns out Riddle's flash knockout knee strike to Da Mack last night was part of a Riddle story, not a Mack story, as he won with it again here, and again in just a matter of seconds. Tonight's looked cooler, though, because Bro was wearing sunglasses while he did it.
But it turns out that Andy's foot was under the bottom rope!

Andy rolled to the outside to recover and Riddle followed him out. Riddle wound up eating a back suplex onto the apron and Andy took over. The story was there was about Riddle's defiance, first in the face of Andy working over his legs and then his back but not going down. Andy hit Riddle with a big Frankensteiner off the top but Riddle defiantly fired up and took it to Andy from then on. They exchanged some awesome nearfalls before Andy eventually resorted to dirty tactics to get the win. GRRR! I hate that Andy so much!


ALEXANDER JAMES vs. JONAH ROCK - 4/10

James uses leverage and his technical skill to overcome Jonah Rock. This was a much worse (and much shorter) version of Jonah's match with Timothy Thatcher last night.


wXw SHOTGUN TITLE MATCH:
Bobby Gunns(c) vs. "Speedball" Mike Bailey - 2/10

Gunns stomped on, snapped, bent, and TAPED Speedball's fingers backwards in disturbing ways. This puts that Alexa Bliss! arm thing to shame. I'm sure Speedball has some similar ability with his fingers, but with the way he was screaming in in pain while selling it, it was to the point where I could not buy the fact that the match was not stopped. The fact that Speedball wrestled with his hand like this totally killed the illusion for me, leaving me just looking at Speedball's grossly-bent finger.


wXw WOMEN'S TITLE MATCH:
Toni Storm(c) vs. Melanie Gray - 8/10

They had a great video package to set the stage for this match-up. Melanie worked over Toni's back, Toni worked over Melanie's head, and they just plain had a FIGHT over the title that really made you feel like this was the most important match of their lives. Awesome!

Before the next match we got video packages for both WALTER and Klinger, then both made their entrances... and then WALTER rather calmly told Klinger that this would now be a three-way match and ILJA F*CKING DRAGUNOV returned wXw! Klinger looked like he had seen a ghost.
Like everyone in the building, I went totally bonkers for this, but I am still me so I have to ask: why is Ilja getting a title shot? His last match in wXw was challenging John Klinger for the wXw Unified World Wrestling Title at the 17th Anniversary Show and he lost cleanly.


wXw UNIFIED WORLD WRESTLING TITLE MATCH:
"Bad Bones" John Klinger(c) vs. WALTER vs. Ilja Dragunov - 9/10

The fans start us off with a loud round of "UNBESIEGBAR!" (invincible) chants for Ilja... then they start to sing "John Klinger sucks!" to the "John Cena sucks" melody. Wonderful!

Klinger charged at WALTER but got caught with a big punch, which sent him stumbling into a lariat by Ilja and he rolled to the outside. Klinger's RISE buddies tried to interfere but our babyfaces teamed up to take them out rather quickly. Their babyface friends from Monster Consulting and RingKampf came out to remove RISE from the ringside area, and then our main event could really begin.

Basically, this was three dudes just BEATING THE LIVING SH*T OUT OF EACH OTHER. Throw in some great nearfalls, a great finishing sequence, and an extremely emotional title win, and you've got yourself one hell of a main event.

Final Thoughts
Yet another excellent night of 16 Carat Gold action, followed by an awesome women's title match, a must-see main event, and an emotional world title win. This is what I want out of professional wrestling, and wXw once again delivers.