wXw We Love Wrestling Tour 2018: Hamburg- 20th Time in the Markethalle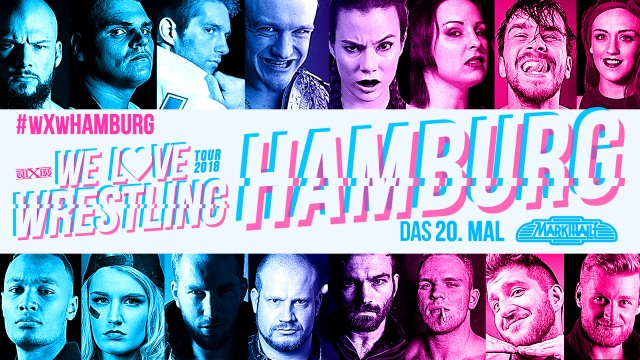 By Big Red Machine
From May 18, 2018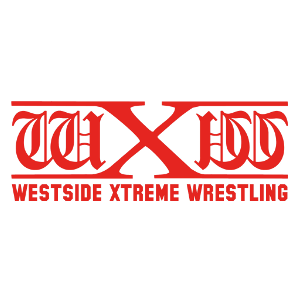 As you might have guessed from the subtitle, this was wXw's twentieth show in this venue. For this reason, the show opened with a neat little retrospective video, first with comments by booker/promoter/on-screen authority figure Christian Michael Jakobi, and then with some quick highlights of big moments that have occurred in this venue over the years.


wXw SHOTGUN TITLE MATCH:
Bobby Gunns(c) vs. Lucky Kid (w/Tarkan Aslan) - 5.5/10

Bobby Gunns cut a promo before the match that got very good heat from some, but there was also a very strong heel-fan contingent. These guys had a relatively long match that, while it felt rather disjointed, wasn't at all bad... but it wasn't really good, either, and wound up feeling like it went longer than it needed to. The crowd was about 60-40 for Lucky, whose face turn continued when he got upset at Tarkan for causing a DQ by attacking Gunns when Gunns had Lucky in the armbar. There was an earlier spot where when Lucky was in an armbar Tarkan had thrown Gunns' wXw Shotgun Championship belt into the ring to distract the ref, then pulled Lucky to the ropes and it was tough to read Lucky's reaction, but after this finish he was certainly not happy, and the two of them argued all the way to the back.


KILLER KELLY vs. LUFISTO - 5/10

LuFisto jumped Kelly from behind as Kelly was climbing down the turnbuckle during her entrance. They only got about six minutes but in that time they had quite the brawl, building up to some impressive-looking suplexes by Kelly before LuFisto picked up the surprising win via Burning Hammer.


DAVID STARR vs. JULIAN PACE - 6.25/10

Starr got the win but Pace looked good in defeat, and Starr showed him respect for his efforts after the match.


VIET MUELLER vs. DIRTY DRAGAN- 1.75/10

The match was very short. Dirty Dragan lost when the much larger Mueller blocked his attempt at a sunset flip by sitting down on him for the pin. Dragan angrily yanked the referee's arm down when he was raising Mueller's hand and got a suplex for his trouble. They spent a lot of time on Dragan being upset after the match.


#1 CONTENDERSHIP MATCH:
Jay FK vs. RISE (Ivan Kiev & Pete Bouncer )- 5.5/10

Jay FK came out to the ring with the wXw World Tag Team Titles that they stole from Monster Consulting. They got booed heavily, as well they should have been. They're tipping a ringside attendant to hold the belts for them... and to give them back to them when they need them to cheat, which was the finish of this match. Good heel stuff.


wXw UNIFIED WORLD WRESTLING TITLE MATCH:
Ilja Dragunov(c) vs. Alexander James - 8/10

Remember when Enzo Amore hit his head on the bottom rope and got knocked out? I'm pretty sure Ilja just did that same thing on purpose (he didn't get knocked out though). That launched a story about James working over Ilja's head, which they told wonderfully. They even made headlocks feel like major moves. Ilja is at his best when he is fighting to survive, and that was on display here once again. The only bit of this I didn't really like was James laughing at the end. I guess he thinks that he "broken" Ilja even though Ilja was pretty clearly about to win, but unless he knows something we don't (which is possible), Ilja did not seem broken or hyper-aggressive or to have changed in any way at all.


NO HOLDS BARRED MATCH:
Marius Al-Ani vs. Absolute Andy - 7.75/10

Al-Ani hit a MONSTROUS dive onto Andy as Andy was coming down the aisle to start things off hot. They had a GREAT brawl all over the building, using weapons as they went.


wXw WOMEN'S TITLE MATCH:
Toni Storm(c) vs. Kay Lee Ray - 7/10

A great match (especially for the time it got), but I'd like to see challengers get build up a bit more before getting shots and I'd like to see wXw give the women's title matches real championship time.


ZACK SABRE JR. vs. WALTER - 8.75/10

These two actually main evented the first show wXw ran in this building, so they are a fitting main event for the twentieth. They had their usual excellent match with hard strikes, great submission wrestling, and lots of emotion. Zack worked over WALTER's knee and WALTER sold it wonderfully. WALTER made a great comeback but Zack managed to catch him in very nasty submission and WALTER had to tap right away. After the match, Zack announced that he would be back in Hamburg for wXw's show on August 31st, and said that no matter who the champion is at that point, he wants a shot at the wXw Unified World Wrestling Title!

Final Thoughts
Another awesome show from wXw. The undercard was all decent matches for the time they got that almost all had storyline-advancing finishes, and the top of card came through with some excellent wrestling in marquee match-ups. The fact that they're now taking a long summer break makes me very sad.