wXw 16 Carat Gold 2016: Day 1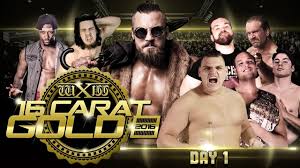 By Big Red Machine
From March 11, 2016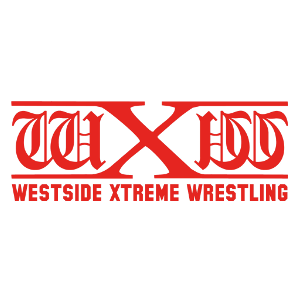 ALTERNATES MATCH:
David Starr vs. Aaron Insane vs. Tyler Bate vs. Mike Schwarz - 4/10
16 CARAT GOLD TOURNAMENT FIRST ROUND MATCH:
Zack Sabre Jr. vs. WALTER - 8.5/10

It's Zack vs. WALTER in all of their Zack vs. WALTER glory. They did their thing and it was awesome. Zack won with a bridging pin, and a frustrated WALTER lariated his head off after the match.


16 CARAT GOLD TOURNAMENT FIRST ROUND MATCH:
Sasa Keel vs. Timothy Thatcher - 6.5/10

Keel immediately German Suplexed Thatcher right onto his head, and pounced on the apparently injury it caused. Thatcher would eventually find an opening to work over Keel's arm, and they proceeded to have a rather Ambition-style match that was rather good for the time it got.


LEVA BATES vs. TONI STORM - 4.75/10

Leva worked over Toni's midsection, occasionally resorting to some less than legal tactics. Toni, the consummate babyface, won clean. This was great for the time it got.

POST-MATCH SEGMENT - Good. Melanie Gray, who has been feuding with Toni recently and lost to her just yesterday at The Inner Circle, attacked Toni and cut a promo on her. This got really good heat.


16 CARAT GOLD TOURNAMENT FIRST ROUND MATCH:
"Speedball" Mike Bailey vs. Ilja Dragunov (w/Adam Polak) - 7.5/10

Yet another match that was excellent for the time it got, and yet another Speedball 16 Carat Gold match that goes onto my list of favorite matches under ten and a half minutes. This was a dramatic and hard-hitting battle between two extremely determined strikers, contrasting the speed and rapidity of Bailey's strikes with the brute for behind Ilja's.


16 CARAT GOLD TOURNAMENT FIRST ROUND MATCH:
Shane Strickland vs. Will Ospreay - 7.25/10

I did not care for them randomly engaging in dance. It's a f*cking professional wrestling tournament. Give me professional wrestling. Then they did some comedy where they both pretended to be completely drained and winded from their f*cking dancing... and then they just started to go a usual speed again within a few seconds of the end of the comedy spot... and now they're just having a regular pro wrestling match. How am I supposed to take your match seriously as a competitive endeavor when you have just spend the past two minutes showing me that you're clearly working together going through a choreographed routine for the purposes of entertainment?

They then did their stuff for about ten minutes and it was pretty great, but it was dragged down by the stupidity in the beginning. And not just by that detracting from the match, but with opportunity cost as well. We saw how good these guys were doing their stuff in ten minutes; how much better would it have been in they had used the full fourteen and a half they were given?


16 CARAT GOLD TOURNAMENT FIRST ROUND MATCH:
Angelico vs. Trevor Lee - 6.75/10

Trevor Lee jumped Angelico to start things off, and mocked his dancing to boot. This was another match that was excellent for the time it got.


16 CARAT GOLD TOURNAMENT FIRST ROUND MATCH:
Drew Galloway vs. Silas Young - 5.5/10

Silas started things off by attacking Drew while Drew was handing his ring jacket to the referee. Drew had fans hold Silas in position so he could chop him. That should be a DQ for outside interference. They proceeded to brawl all over without the referee trying to count them out. Drew also spit beer (which he did not pay for!) into Silas' face, which should also be a DQ.
Both of these guys were last-minute replacements due to injuries to Tommy End and Daisuke Sekimoto. So last-minute, in fact, that Drew was already booked elsewhere for tomorrow's show, so the announcers informed us that if Drew does advance, he and his opponent will wrestle their quarterfinal match as the opening match of night three. I liked that they made this announcement because if this were real, that is exactly how it would be handled, rather than what you'll often see promotions do, which is to just not mention it at all and pretend like some other company isn't advertising a guy for a night when he is theoretically supposed to be working for them. In the real world, this sort of thing would be noticed and dealt with. I also liked the fact that making this announcement makes the outcome not feel obvious for people who already know that Drew is booked elsewhere tomorrow night.

This match was also under ten minutes but wasn't so great for the time it got. In addition to the stuff that I noted before, there wasn't much story. Silas worked over Drew's midsection a bit, but pretty much all of the other offense was just hitting each other, and not even in a particularly exciting manner.

DREW GALLOWAY PROMO - Great babyface stuff. He put over wXw, the fans, the wrestlers and also the Ospreay vs. Strickland match. Then vowed to use the relatively unique circumstances described above to make history by becoming the first person to ever win three 16 Carat Gold matches on one night on his way to winning the tournament.


16 CARAT GOLD TOURNAMENT FIRST ROUND MATCH:
Sami Callihan vs. Kim Ray (w/Andrei Ivanov) - 6.75/10

For the second straight match we've got fans holding the heel in place so that babyface can chop him. These guys, too, were on the outside for a long time without being counted out.
They hit each other very hard and a lot. Then Sami tried to hit Kim Ray with either a powerbomb or a Piledriver, but the fact that I can't tell you which one he was going for should tell you just how scary this landing wound up being. Then again, this is Sami Callihan we're dealing with, so I guess it's also entire plausible that he really was trying to go for a Ganso Bomb, which is what this ended up looking like.

This was yet another match that was pretty good for the time it got. "Short, but great for the time it got" is definitely becoming something of a theme for tonight, isn't it?


16 CARAT GOLD TOURNAMENT FIRST ROUND I QUIT MATCH:
Marty Scurll vs. Axel Dieter Jr. - 9.5/10

This was basically the "heel tortures the babyface but babyface refuses to quit" style of I Quit Match, complete with handcuffs and beating the babyface with a weapon. This just happens to be the best I've ever seen anyone do it, due to both the viciousness of the beating and the way they kept switching the situation up so that it never started to feel repetitive. Marty's shots with both his umbrella(s) and the Kendo stick were BRUTAL AS HELL. But not matter what Marty did to Axel, Axel just kept saying "nien!" and eventually was able to lock Marty in the Axel Dieter Sr. Special with the Kendo stick across Marty's neck and force him to quick. An AMAZING match with an extremely hot crowd.

Final Thoughts
This was an excellent show from wXw. Even though most of the matches didn't get anywhere near the time you'd hope (only Zack vs. WALTER, Strickland vs. Ospreay, and the main event got more than ten minutes, and only the main event went more than fifteen), pretty much everything exceeded expectations for the time it got. That, plus the pure excellence of WALTER vs. Zack and especially the main event made this one hell of a show.