wXw 16 Carat Gold 2016: Day 2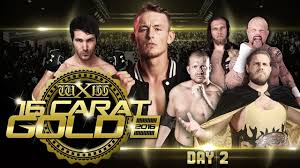 By Big Red Machine
From March 12, 2016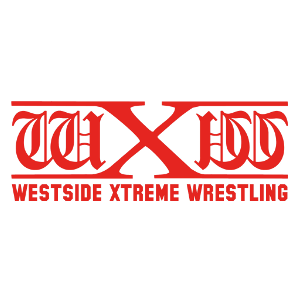 TYLER BATE vs. SILAS YOUNG - 4.75/10

Tyler Bate made his entrance wearing a black-haired wig for unexplained reasons. Both guys' heads got worked over and Bate won with a brainbuster. I thought that spot where they did the simultaneous clotheslines three time in a row was too cutesy. One time would have worked much better.


DA MACK & WALTER vs. DAVID STARR & SHANE STRICKLAND - 7/10

A GREAT eleven minute match. Starr and WALTER are always great together, and Strickland and Da Mack more than held up their end of things. The finish was particularly great, with lots of credit going to Da Mack for the way he fell on his shoulder. The Bridging Tiger Suplex was an excellent choice for a finish after that bump, and the set-up of a high-risk move getting thwarted and the guy falling down, then immediately getting hit with something else and pinned (or even just pinned without getting hit with a move) is a finish that we see way too infrequently. Make those bumps mean something and make the moves actually feel like "high risk" maneuvers- not just in reality because we know it's shoot dangerous, but in kayfabe as well, with it actually feeling like something that could end a match if it goes wrong for you.

POST-MATCH SEGMENT - Good. WALTER yelled at Da Mack for losing, and walked off without him. This ended with the fans chanting for Hot & Spicy, which is the name of Da Mack's tag team with Axel Dieter Jr. And speaking of Axel, the next match is his...


16 CARAT GOLD TOURNAMENT QUARTERFINAL MATCH:
Axel Dieter Jr. vs. Ilja Dragunov (w/Adam Polak & Julian Nero) - 7.75/10

Another excellent sub-ten-minute match for Ilja. Axel was his usual excellent self and as beloved as he was to this crowd, Ilja's never-say-die attitude made the fans love him just as much, and they were evenly split for this hard-hitting contest of wills.


"SPEEDBALL" MIKE BAILEY vs. TREVOR LEE vs. ANGELICO vs. MARTY SCURLL - 8/10

This makes two straight nights of excellent (relatively) short matches for Speedball as well. This was an awesome action-packed four-way that managed to never stop building until it was time for the finish. Major kudos to all four of these men for the most awesome eight-minute match you'll ever see.


16 CARAT GOLD TOURNAMENT QUARTERFINAL MATCH:
Zack Sabre Jr. vs. Will Ospreay - 8.5/10

HOLY SH*T. This was probably one of the best matches I've ever seen under thirteen minutes. This was EXCELLENT. Both guys were in top form here tonight, giving you everything you love about each of them, while still keeping this match feeling totally different than their other encounters.


TONI STORM vs. MELANIE GRAY - 4.75/10

Good for the time it got.


16 CARAT GOLD TOURNAMENT QUARTERFINAL MATCH:
Timothy Thatcher vs. Sami Callihan - 8/10

This was an extremely intense striking battle with both guys targeting the head. They got a little too cutesy for my taste with some of the mirror-image stuff at one or two points, but other than that, this was awesome.


FATAL FOUR-WAY MATCH FOR THE wXw UNIFIED WORLD WRESTLING TITLE:
Karsten Beck(c) vs. Absolute Andy vs. "Bad Bones" John Klinger vs. Jurn Simmons - 7.25/10

This was originally supposed to be a three-way, but Karsten Beck and Jurn Simmons demanded that Jurn- part of Karsten's group- be added to the match because otherwise it would essentially be a handicap match (and this fear did seem a bit justified, as one of the clips they showed of Andy and Bad Bones talking certainly sounded to my non-German-fluent ears like they were saying that they needed to work together to take Beck out first). CMJ and the management committee agreed, so it now became a four way.

It turns out this was probably unnecessary, as Andy immediately superkicked Klinger before charging at the two heels while they were still shocked at Andy kicking Klinger, so instead of two-on-two, this wound up being-two-on-one-on-one... until it wasn't (cue ominous music).

This was a great four-way, but at the same time I couldn't escape the feeling that if it everything had been sped up by half a second, it would have been so much better. Andy wound up doing a stretcher job and bleeding from the mouth (worked, of course), but the real news here was Jurn Simmons and Karsten Beck.

For the longest time Jurn really, truly seemed to be on Karsten's side. I don't recall him going for pins or breaking Karsten's up... until he picked his spot and tried to roll Karsten up, but only got a two-count. The look of disbelief on Karsten's face was excellent, as was Jurn's smirking in response, which helped turn Karsten babyface. Karsten eventually came to terms with this reality and he and Jurn fought and Beck hit Jurn with a Piledriver but Jurn kicked out, ad would eventually go on to pin Karsten with a Piledriver of his own. This was all very good (the last few minutes as a whole were excellent), but I can't help but think that it would have worked so much better if they had saved Jurn's betrayal for the very end, with the finish being Jurn suddenly breaking up one of Karsten's pins via kick to the head, then picking Beck up, hitting the Piledriver and getting the pin.

POST-MATCH SEGMENT - GREAT! Jurn left not only with Karsten Beck's wXw Unified World Wrestling Championship, but also with Karten's fancy "king" entrance robe, and flanked by Karsten's ally Melanie Gray (and he would eventually take the rest of the group as well). Basically, Jurn took everything Karsten had. Karsten was so distraught by this that he screamed in frustration and unlaced his boots, leaving them in the ring as he walked off, leaving his future in wXw in question.

Final Thoughts
This was an excellent from wXw top-to-bottom, even with the main event not quite living up to its potential. Hopefully night three will keep up the high quality of the previous two nights of this tournament.