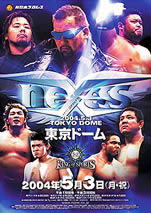 By Big Red Machine
From May 03, 2004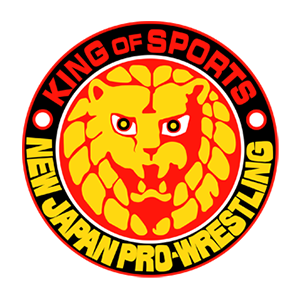 HEAT, NAOMICHI MARUFUJI, & TIGER MASK IV vs. AMERICAN DRAGON, ULTIMO DRAGON, & KOJI KANEMOTO - 7.5/10

A great, action-packed opener.


HIROYOSHI TENZAN, OSAMU NISHIMURA, & SHINYA MAKABE vs. MAKAI CLUB (Giant Majin, New Strong Majin, & Super Strong Majin) (w/Kantaro Hoshino) - 1.25/10

I'm taking these names from CageMatch.net and they spell the Makai Club guys' names "Majin." I don't know if this is the proper name or if they are supposed to be a new version of The Machines and the "Majin" name comes from a "Rolling/Roaring Elbow" type of situation. The match was slow and boring, with lots of guys running into each other. Me not giving this a dud mostly comes from Young Lion Makabe's brave showing, and the fact that there was a chokeslam.


KATSUHIKO NAKAJIMA vs. JUSHIN "THUNDER" LIGER - 5.75/10

Nakajima worked Liger's head over, mostly with kicks. When Nakajima finally got into some trouble, Kensuke Sasaki and Akira Hokuto (his wrestling parents) came out to ringside to cheer him on. That was nice. Then Liger just won with a Boston Crab. It was a vicious looking one, but it still seemed kind of abrupt and odd.


KEN SHAMROCK vs. JOSH BARNETT - DUD!

Look... I like grappling and the grapplef*ck style more than most, but this was not that. This was "fake MMA." This was a grapplef*ck match without the intensity. Then, when they got up to do strikes, the referee would back someone off every time they managed to knock the opponent down, totally killing any momentum they had. Then we got a distraction spot, a near ref bump, and finally Shamrock shoving the referee down when the referee orders him to break an ankle lock in the ropes for the DQ finish. Then it got even worse, as Shamrock grabbed a mic and complained that the real reason he was disqualified was that referee was supposedly "trying to protect" Barnett because Barnett had a broken foot... because this is Inoki booking, and so it isn't just the in-ring action that's a worked shoot, brother! Shamrock said he would have been able to beat Barnett if they did this "old school" without any time limits or rules. Barnett accepted this challenge, saying that he and Barnett should have a deathmatch. No return match ever came from this. Hooray for Inoki-ism!


GENICHIRO TENRYU & MENG vs. DOLGORSUREN SUMYAABAZAR & DOLGORSUREN SURJBUDEE - 5/10
KENSUKE SASAKI & MANABU NAKANISHI vs. KENDO KASHIN & YUJI NAGATA - 1/10

Kashin almost walked out of the match several times for no explainable reason, leaving Nagata alone. Nagata fought valiantly until Kashin finally came back and oh my G-d this match just won't end! Eventually Kashin threw powder in Nakanishi's face to set up Nagata pinning him with the Backdrop Hold. Who are the babyfaces, who are the heels, and what the hell is going on?


IWGP TAG TEAM TITLE MATCH:
Minoru Suzuki & Yoshihiro Takayama(c) vs. Masahiro Chono & Kazunari Murakami (w/Kantaro Hoshino) - 6.5/10

Suzuki doing fake MMA with his opponents was good, and everything else was fine. Chono and Takayama brawled up the aisle at the end and kept brawling afterwards, so I figured that was building to something. Then again, the last thing that seemed to be building to something didn't lead to anything so I went to check this out and it turns out that Chono and Takayama only had three matches after this, none of them were singles matches, and the first of them didn't occur for another two years.


DIFFERENT STYLE FIGHT:
Jan Nortje vs. Yutaka Yoshie - 3/10

Norte started out dominating Yoshie with strikes, but Yoshie eventually took him down... and then hit him with a SITTING SPLASH. Yes really. And Inoki wanted us to think this was a shoot? Yoshie then locked in a half crab but Nortje got to the ropes. Nortje hit some more strikes and knocked Yoshie down with a big kick but Yoshie got back up. Yoshie managed to hit a German Suplex, then hit a top rope splash, then got the win via Camel Clutch. This was short, but oddly entertaining.


HIROSHI TANAHASHI vs. SEAN O'HAIRE - 5.75/10

This was fine for the time it got, but a lot shorter than I would have expected for third from the top.


DIFFERENT STYLE FIGHT:
Katsuyori Shibata vs. Musashi - 3.5/10

This match has three-minute rounds. It ended in the second. This was fake MMA. It looked pretty real to my untrained eye, but either way, I'm not here for fake MMA. I'm here for pro wrestling. And this was a match that went less than five minutes, and wasn't very entertaining.


IWGP HEAVYWEIGHT TITLE MATCH:
Bob Sapp(c) vs. Shinsuke Nakamura - 6.5/10

Bob Sapp is a big giant awesome monster and Nakamura is an excellent babyface. Unfortunately they only got twelve and a half minutes.

Final Thoughts
Well... I gave Inokism a try. I doubt I'll go back to it because, quite frankly, this show was a mess. Matches that should have been much better than they were due to the level of talent involved were hamstrung by the booking, either with over-gimmickry, forcing them to work a fake MMA style, not giving them enough time, and a combination of the three. It's not hard to see why this bullsh*t ran New Japan into the ground.