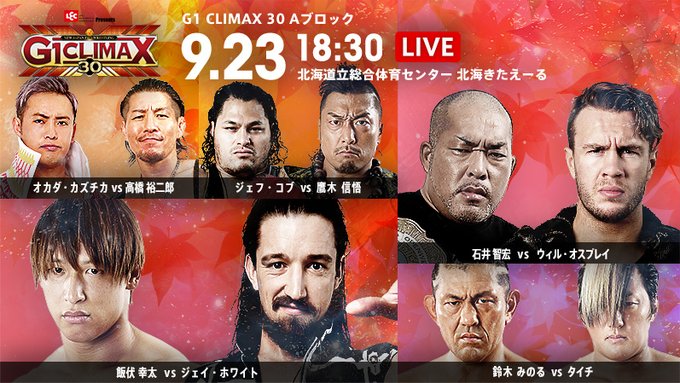 By GARZA
From September 23, 2020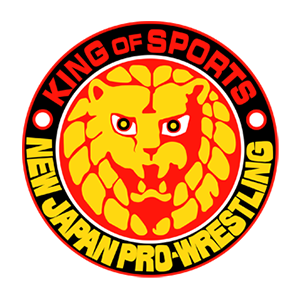 Gabriel Kidd vs. Yuya Uemura - 6.5/10

Fantastic 7 minutes of Young Lion basics. This was Gabriel Kidd's first victory in NJPW, so it felt like a big deal when he hit that double underhook suplex for the win.


G1 Climax 30 Block A Match
Shingo Takagi (2) vs. Jeff Cobb (0) - 8/10

Good match, but Shingo got slowed down by Cobb is actually kinda hurt him, not bad, but he felt less explosive when selling for Cobb. All the Lariats were awesome here, Cobb sold some of them like if he was getting killed. I kinda figured that Cobb had a big chance of winning this one, he has only a couple of names that he could credibly defeat and this was one.

New Japan commentary referenced that Jeff Cobb defeated Shingo Takagi in 2018 Battle of Los Angeles in PWG.


G1 Climax 30 Block A Match
Yujiro Takahashi (0) vs. Kazuchika Okada (0) - 6/10

I was close to just butcher this match, I was suffering for the first half of the match, but it did manage to get my attention towards then end when Yujiro started getting some bigger moves in. I figured that like many other feuds, if there is a match that Okada (or other bigger names) can lose, it's the G1 Climax match. So given that, I just got interested to see if Yujiro could actually pull it off, but he didn't. Aside from that, Okada did kinda tried to make the Cobra Clutch better, but it still sucks when the person selling just sits there.


G1 Climax30 Block A Match
Minoru Suzuki (2) vs. Taichi (2) - 7/10

This was great, so much intensity going in. These two had been eyeing each other since the September 11 Road to show, since then you could feel there is some hidden grudges that they need to talk about.

Suzuki and Taichi went straight into a brawl as soon as Suzuki got to the ring, they went at it outside and inside, chairs and whatnot. They beat the shit out of each other and they managed to keep up the pace. If there was a match that I would had booked to be the double countout, it was this one, they both displayed a disgust enough to make it credible that they would be so invested in the brawl that they wouldn't notice the time was running out, but alas, at the end, both men raced for their finishers and being that Black Mephisto is a perfect counter for any piledriver, Taichi countered the GSP, hit BM, and won.

This shouldn't be seen as dissension or should we expect that Suzuki-Gun ceases to exist tomorrow, but we're planted the seeds there that Taichi now knows that he can beat Suzuki without using the Iron Palm, he knows that he has a right to take over Suzuki-Gun, and so we'll see where this goes.


G1 Climax 30 Block A Match
Tomohiro Ishii (0) vs. Will Ospreay (2) - 8.5/10

Great match, but Ospreay did get on my nerves for a while at the start, he's been too cocky. This was a nice clash of styles when Ospreay went all flippy flippy, and it even was interesting seeing that it was the type of offense that Ishii had a hard time countering, but every now and then, Ospreay would want to go Strong Style versus Ishii and the match would balance out a bit.

This match had several flurries where Ishii and Ospreay would just explode in speed and they would counter and dodge each other like Jr. Heavyweights, having those mixed around the match kept bringing you back, and worked to gate into further gears in the match. I kinda deeply wanted for Ishii to win and offer Ospreay a handshake afterwards, but Ospreay is going to be in the Block finals if not the actual G1 Climax, so wins he has to gather.


G1 Climax 30 Block A Match
Kota Ibushi (2) vs. Jay White (2) (w/Gedo) - 9.25/10

This was my favorite match of the night, White is just fantastic, the way he plays the crowd that can't boo him back, the way he sold throughout the match, the way he picked on Ibushi's knee and worked it, even the way he just smiles at Ibushi after he pinned him with a Blade Runner out of nowhere. And I guess that was my only gripe with the match, the finish did come out of nowhere and there wasn't a lot of reaction to it.

Post-match - White played the crowd, called the people of Sapporo stupid, called Ibushi stupid for caring so much about what people thought of him. No one can compare to him and next up is Okada in Kobe, where White and Gedo once created history, that being when Gedo and White betrayed Okada.


OVERALL THOUGHTS

Great G1 show. Only one stinker that an even pass as good in any other promotion. White and Taichi are beasts right now.