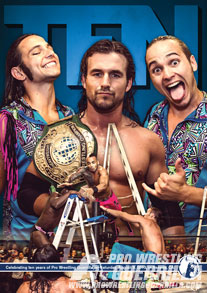 By Big Red Machine
From August 10, 2013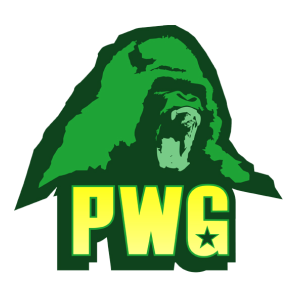 PWG Ten (8/9/2013)- Reseda, CA

"PRETTY" PETER AVALON, RYAN TAYLOR, & JOEY RYAN vs. B-BOY, WILLIE MACK, & CANDACE LERAE- 6/10
The bottom of Candace's attire is NES controller themed. I haven't seen any PWG since January, so it's entirely possible that I missed something, but is she now Player Uno's ring rat or something? Either way it was still cool. Almost as cool as the top of her attire, which showed a very nice amount of boobs. I bet Chris Hero feels stupid for losing her, huh?
Joey gave Candance one of the hardest slaps I have ever seen in a wrestling ring. And speaking of hard…

NO!

Not that! Get your mind out of the gutter!


Anyway, at one point when she was on the outside a fan went to help Candace up, but touched her face while doing so, and Ryan Taylor gave him a HUGE foream that knocked him out. I'm pretty sure it was a plant (especially by the way he sold), but with the crime in question being touching a female wrestler on the face, I'm not certain.
Oh. Well... it turns out that the fan in question was actually Scott Lost, and he got some revenge later on in the match.

Anyway, the match was good, but not quite what I am used to from the multi-person tag involving Candace, Joey, Peter Avalon, etc. There was less comedy than usual, and especially less sexual harassment-based comedy than usual (only in PWG could "sexual harassment-based comedy be a thing).

BRIAN CAGE vs. TONY NESE- 5.5/10

FOREVER HOOLIGANS vs. ROCK-NES MONSTERS- 7.25/10

MICHAEL ELGIN vs. AR FOX- 8.5/10
Tons of awesome stuff in this match, and an awesome "power vs. speed" dynamic.

CHUCK TAYLOR & JOHNNY GARGANO vs. PAUL LONDON & BRIAN KENDRICK- 7.25/10

TJ PERKINS vs. KYLE O'REILLY- 8.25/10
Absolutely beautiful mat-wrestling.

GUERRILLA WARFARE MATCH FOR THE PWG WORLD TITLE: Adam Cole(c) vs. Kevin Steen vs. Drake Younger- 8/10
VIOLENCE!

LADDER MATCH FOR THE PWG WORLD TAG TEAM TITLES: the Young Bucks(c) vs. Dojo Bros. vs. Inner-City Machine Guns (Rich Swann & Ricochet- 8.5/10
Lots of kicks to the head, lots of dives, lots of ladder spots, lots of awesome.

Another awesome show from PWG, thought not quite the all-time great show it was originally touted as. Still a Show of the Year candidate, though, and obviously a show that you should pick up.